The problem…
Watching an NHL game from home is not nearly as intimate as watching a live game. On top of that, the NHL gets very little national TV coverage, making it difficult to keep up with all the action and find all things hockey in one location. The overall experience of keeping up with your team and the rest of the league can be a hassle.
THE GOAL...
To create an immersive and interactive NHL experience that keeps fans engaged and has all of your hockey needs in one place.
My Role...
As the sole UX/UI designer on this project, I was responsible for planning the research strategy, conducting the research, and synthesizing my findings into digestible data. I then implemented my findings into new, easy to navigate, designs for the mobile and apple TV applications.
<!- TIMELINE ITEM -!>
DISCOVERY
- Identify goals
- Identify potential problems
- Identify assumptions
- User interviews
- User Observation
- Contextual Analysis
- Competetive & Comparative Analysis
<!- END OF TIMELINE ITEM -!> <!- TIMELINE ITEM -!>
SYNTHESIS
- Validate assumptions
- Analyze findings
- Create personas
- Workshop findings
- Client research briefing
<!- END OF TIMELINE ITEM -!> <!- TIMELINE ITEM -!>
IDEATION
- Brainstorming
- Sketching
- Low/ medium fidelity wireframes
- Information Architecture
- User flows
- User jounrey
<!- END OF TIMELINE ITEM -!> <!- TIMELINE ITEM -!>
ITERATION
- User testing
- High fidelity wireframes
- Prototype
<!- END OF TIMELINE ITEM -!>
THE FANS
The NHL has some of the most loyal fans in sports. The NHL community is more tightly knit than those of other major sports; hockey players and fans even have a kind of unwritten language and vocabulary.
Fans want to be fully immersed into the NHL experience and feel connected to their favorite teams and players. They want to feel connected with their fellow fans and pull for a common cause. Go to a live NHL game and you will feel the buzz.
USER Interviews
During this two week study I conducted 15 interviews with fans ranged from 14 to 35 years old. I interviewed fans of varying degrees, from new fans, to former professional and college players. The fan interviews were a great way to get a feel for the emotions involved in watching a game. I was able to learn what fans want while watching NHL games from home. The interviews also gave me insight on why and when fans watch certain games, as well as what they like and dislike about the current viewing experience.
Contextual Analysis
I observed fans watching games on TV and went to a Ducks game to watch the live action. I also observed fans playing NHL 2018 because 73% of the fans I interviewed play the game. This allowed me to get their genuine reactions to situations that happen during the game. I was able to see real emotions and the plays and moments that brought the emotions out.
Articles, blogs, and other studies allowed me to get a sense of where the hockey world is in terms of overall fan satisfaction. I read a lot about what fans want, what the NHL wants, and what is next for hockey.
SURVEYS
Surveys were taken by each fan prior to being interviewed. The surveys were useful for gathering quantifiable data about how fans watch the NHL.
Key Takeaways
Fans want to see the speed, skill, strength, and passion of their favorite players up close and personal.

Many fans only have time to check stats, highlights, scores, etc. on a regular basis.

Fans want to focus on the overall gameplay when they are watching their home team.

Most fans choose to watch other games because of star players and hype around games.

Fans want to have all relevent information at their finger tips, but not have it thrown in their face.

The more experienced a fan is, the more control they want of what they see and when they see it.
- Both freshmen in college, both play on the hockey team, and they are roommates.
- Jimmy watches 2-3 games per week, while Alex watches 4-5 games per week.
- Both are from Canada and have trouble watching their home teams.
- Either playing NHL 18 or watching hockey during free time.
- They are in a fantasy league with their hockey team.
- They are both frustrated by the lack of NHL coverage.
- Tyler is a 29 year old working in commercial real estate who played hockey growing up.
- He works late and generally does not get home in time to watch his team play.
- He watches whatever games are on when he is free, and sometimes watches the end of his home team's game on the train home.
- He does not have time to watch games, so he likes to have all stats, standings, and news updates in one place.
- He plays in weekly fantasy hockey competitions to try and win free stuff.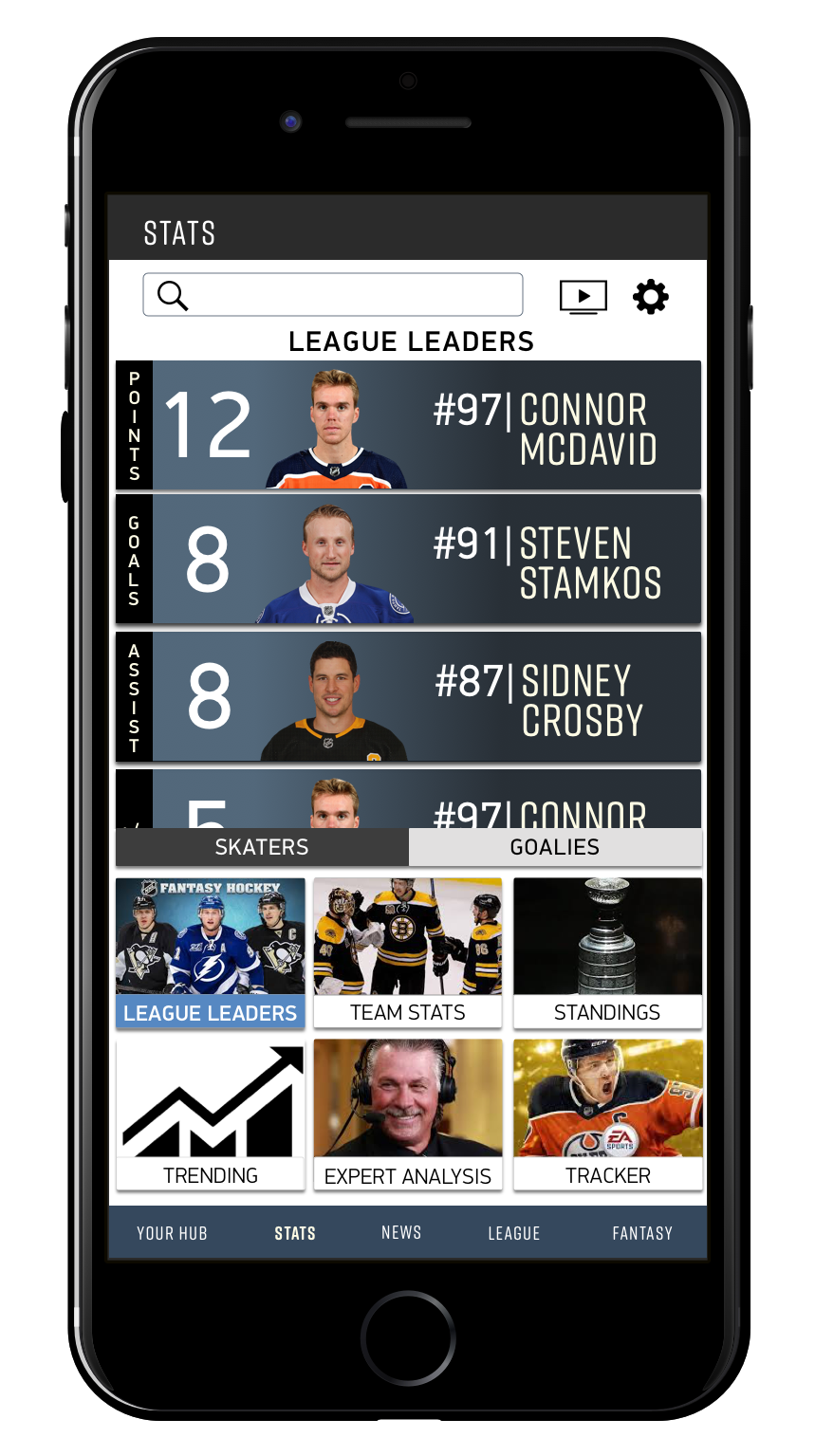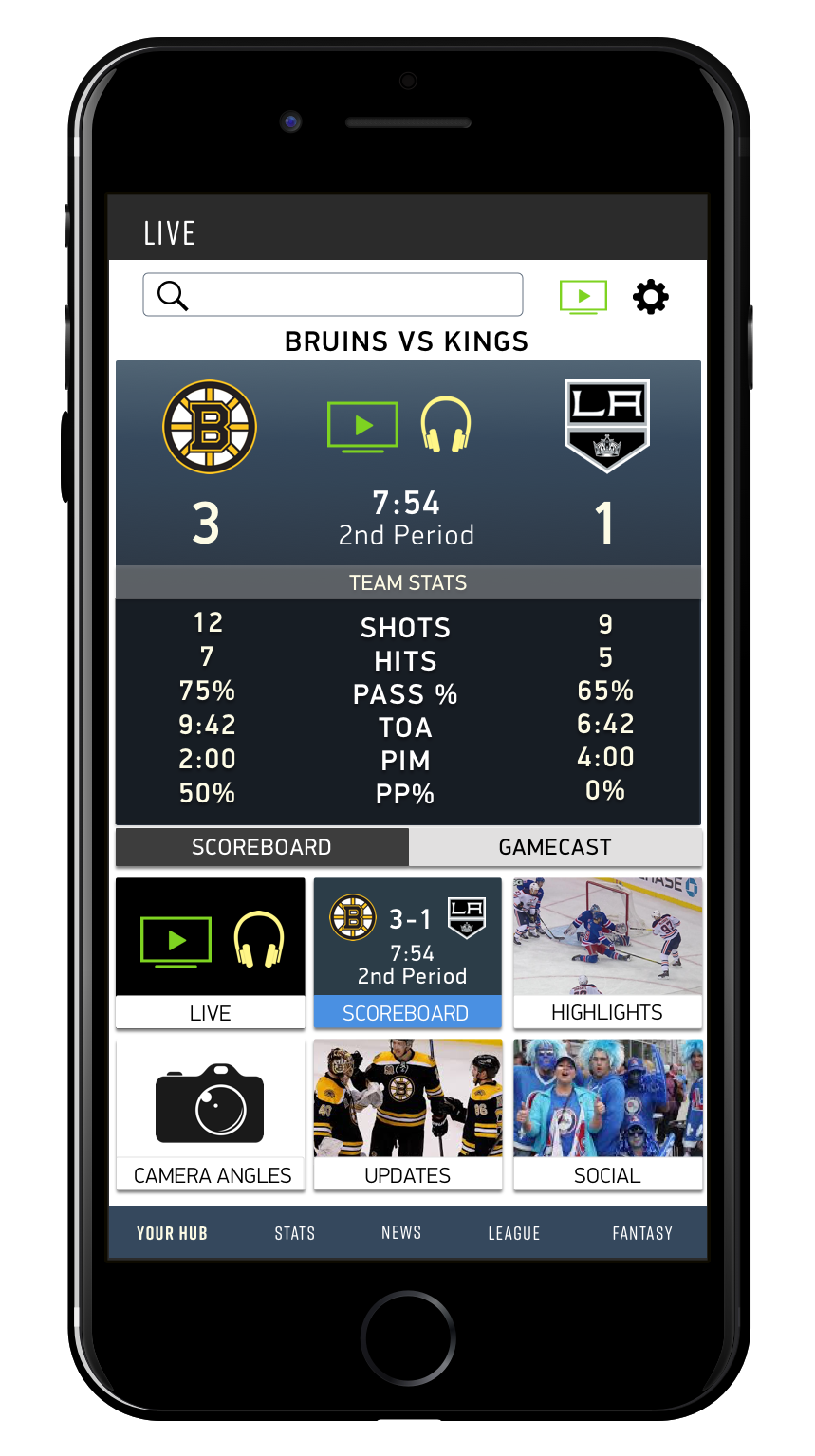 NHL HUB MOBILE APP
The Hub mobile app was created for people like Tyler, who are always on the go and have trouble keeping up with entire season. The Hub allows for fans to quickly find any information they are seeking regarding the NHL. Fans can stay up to date with their team, the latest scores, news, highlights, fantasy, and more, all in one place.
Whether you are checking on your weekly fantasy matchup, trying to catch the latest highlights, or trying to watch your home team, look no further than The Hub. The mobile app can also hook up to your Apple TV, giving you even more control your NHL viewing experience.
FEATURES
Personalized to your home team.

Stats, standings, and schedules.

Fantasy.

Watch and listen to live games.

Live updates.

Multiple camera angles.

Track trending players and teams.

Insider access.
THE HUB for apple TV
The Apple TV app for the NHL fan viewing experience was made more with fans like Alex and Jimmy in mind. Their lives consist of eating, sleeping, school, and hockey; they will never be more indulged in the sport in their lives. The Apple TV app allows fans to watch their home game, their favorite players, or any game they desire. It allows fans to stay up to date with the latest in the hockey world, including stats, standings, news stories, highlights, fantasy, and much more.
The TV app can also be controlled by The Hub mobile app, allowing fans to have complete control over their viewing experience, including multiple in-game camera angles, live updates, and better ways to watch instant replay.
Continue to conduct user research to keep up with what the fans want.

Make access to out of area games cheaper and more accessible.

Create a closer bond between players and fans with up close and personal stories and experiences.

Promote big games more often, get the fans excited to watch the biggest matches of the day/week.

Bring the global hockey community together through social media.

Set up free fantasy hockey, keep fans engaged on a daily and weekly basis.

Bring hockey into new communities, promote the game to the younger generation.